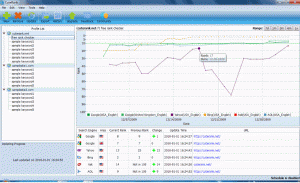 I haven't done anything SEO related in almost a year. 2011 has been a very busy year for me. I purchased 5 houses last year and spent most of the year refurbishing them. I'll save the details of that for another post.
When I sat back down in my SEO saddle, I noticed the Adsense earnings on some of my best sites had dropped by a few hundred dollars per month. The first thing I thought to do was to check my keyword ranking using Web CEO. However, I hadn't used the Web CEO for over a year and the knowledge base was out of date.
Web CEO offers a lot of functionality that I just don't use. I really only use the keyword rank checker. The problem is the subscription to the knowledge base isn't cheap and it seems like every time I turn around I'm having to pay to update it again. I started looking for another alternative.

I found a great piece of software called CuteRank. Cuterank provides all the great functionality you could hope for in a keyword rank checker. Besides that, you can get a free version that is fully functional provided you are only tracking one website.
After spending some time with the free version, I decided I wanted to track more of my sites and paid $69 to get the unlimited version. That includes a full year of knowledge base updates. After that, updates are just $10 per year.
The paid version allows you to use a proxy if you wish, it provides charts and graphs to track your keyword movement, and allows you pick country specific search engines. So far, I am not disappointed.
The only concern I have about Cuterank is the support. So far, I haven't need any support, but if you view their support forum and their facebook page, it looks like many recent cries for help have gone unanswered.
Tags: cuterank, keyword checker, keyword rank checker, rank checker