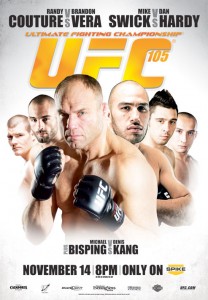 Usually when I watch a UFC event, I can hardly wait until the last fight, the main event, the moment that everyone has been waiting for. It never happened last night. The Randy Couture vs. Brandon Vera fight wasn't entertaining and to say I had a lack of interest was an understatement. One thing I can say for sure, just like in the recent past, the fight was too close to call and no matter who won the decision, there was going to be those that didn't agree. Personally, I consider that fight a draw.
Michael Bisping def. Denis Kang was an interesting fight to me for one reason. I can't stand Michael Bisping. He's a loud mouth, cocky, arrogant moron. He ran his mouth against Dan Henderson leading up to UFC 100 and Henderson paid him back with one of the most devastating knockouts I have ever seen. I didn't know much about Denis Kang, but I was hopeful that he would would do the same. Unfortunately, that didn't happen and Michael Bisping won the fight.

Mike Swick vs. Dan Hardy was an exciting fight. I like to watch Dan Hardy and this was a good match with Swick. The fight went all three rounds and the unanimous decision was awarded to Hardy. Shortly, after the fight Georges St. Pierre entered the ring and it now appears that Dan Hardy is going to be the next GSP victim sometime next year. I'll always like watching GSP work, but I don't see anyone in his weight class that poses a real challenge. Maybe they could require GSP to tie at least one hand behind his back just to give Dan Hardy a chance?
Tags: brandon vera, dan hardy, Denis Kang, Michael Bisping, Mike Swick, randy couture, ufc 105