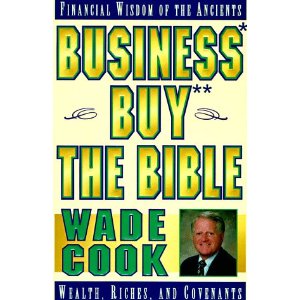 Business Buy the Bible: Financial Wisdom of the Ancients
Maybe I shouldn't even review this book. I couldn't make it all the way from cover to cover. I didn't even make it past the second chapter. Considering that Wade Cook is in prison for tax evasion, filing a false return, and obstructing an IRS investigation, I'm not even sure why I bought the book in the first place? I admit. I knew that before I purchased it.
Judge Zilly, who presided over Wade Cook's four week trial said his sentencing of was influenced by presentencing reports that in 1990, Cook was indicted in Arizona on 18 charges of fraudulently selling unregistered securities and conducting illegal enterprises. He said he also found that the FTC had actions in 14 states against Wade Cook for improperly taking money from investors and had imposed penalties of about $2.7 million. In addition, he noted that the Cooks filed no personal income tax returns between 1993 and 1996, and that the intricate network of corporations and trusts the Cooks set up was "sophisticated," increasing the maximum sentence he could impose.
Is this the man you want to take spiritual advice http://www.outinoceancity.com/Photos/photos.asp
from? Probably not. I'd give this book the worst possible rating and would not recommend you purchase it.
Maybe I'm being tough on him? This book has a 4.3 rating on Amazon right now.


Read more: http://www.seattlepi.com/business/article/Wade-Cook-gets-88-months-in-prison-1245540.php#ixzz2NBBdTbWB