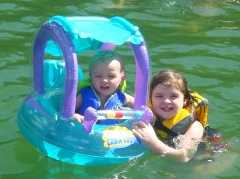 This is my first post in nearly six months! 2009 has been a great, but also a very busy year for me and my family.
Most of my regular readers know that my primary business has been an e-commerce site that my wife and I started out of our garage in 2001. In 8 years we had grown that business into a 10,000 square foot facility that we owned and were generating 7 figures a year in revenue.
If you have ever operated a business of that size, then you know everything isn't about lots of money, sandy beaches, and fruity drinks. It's more about long hours, lots of taxes, and employee issues. Owning a business has been one of the most rewarding parts of my life, but it has also been one of the most demanding and stressful.

My son Jordan was born on December 14th in 2007. The day after he was born, we had the all clear from the doctors for mom and baby to return home. Due to problems at the office, our first stop wasn't home. Our first stop was the office!
Out of everything I've faced as a business owner, I don't think I have been more stressed and frustrated than I was that day! I decided then and there that if I wanted to spend quality time with my children, I needed an exit strategy. I discussed the possibilities with my wife and after a few months, we decided to list the business for sale with Sunbelt Business Brokers.
I didn't know what to expect. For months there seemed to be very little activity. It didn't seem like we were going to find a buyer. I was determined to find an exit no matter what. As a last resort, I had plans of liquidating everything in March of 2009.
Then in February 2009, I got a call from my broker George Indestead. George had a potential buyer that wanted to make a site visit. I was skeptical. I really thought George was trying to do anything he could to get me to renew my contract. That didn't turn out to be the case. After several weeks of negotiation, the buyer and I were able to agree to terms, and we closed the deal in July of 2009.
I've been very busy after the closing. It took time to get the new owners up to speed and do all the "legal stuff" required. The new owners decided to move the business to Missouri and the warehouse I owned wasn't part of the deal, so I've spent a lot of time getting it ready to sell and just signed a purchase agreement with a buyer last week. Finally, I feel like I've got everything off my plate and can just take time and breath!
It's been a very bitter sweet experience. It's nice to have the time and financial capacity to do some of the fun things I wasn't able to do with my family while I was married to a business. At the same time, it's hard to watch something that I worked so hard to build be completely out of my control. New owners have new ideas and methods. It's tough to sit back and watch changes I disagree with and know I don't have a voice in the issue.
What's Next For Me
I'm certainly going to do something internet related. I've always dabbled in Adsense sites, affiliate programs, and digital products. I haven't really had much time to devote to any of those projects, but I do have some moderate experience along those lines. I can guarantee you that anything I do will be completely digital with no physical products involved. If I hire employees for this business, they'll be remote employees that I can manage from anywhere in the world. I don't want to do anything that is going to tie me to a physical location.
One thing I am not interested in is being the guy selling worthless products that I have never used and trying to make a buck anyway I can. There are too many morons out there selling "How to Make Money on the Internet" material that haven't made any themselves. I don't want to be that guy.
Josh Spaulding is an internet friend that I look up to and would like to model my new business after. Josh has already made it in the "digital products" side of the internet. What sets Josh apart is he truly wants to help people and spends his free time doing just that. Josh wrote a great post titled, "What is Ethical Internet Marketing. In it, he details some of the key concepts and ideas that I want to build my new business around.
I'm already planning and working out the details of some new projects. I hope you will check my blog often and if I can be of help to you with any issues you are having building your physical product business, let me know and I'll be happy to help you within the confines of my non-compete of course. 🙂
Tags: selling a business