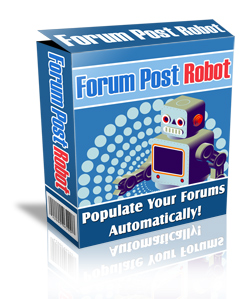 Last night, I built a new forum site at http://www.taxlienstrategies.com/. By this afternoon, I had over 200 posts and just as many members. I'd love to say I'm an SEO genius and had ranked the site for some high traffic keywords in less than 24 hours, but that isn't the case.
I'm trying out a new software I purchase called Forum Post Robot. (Affiliate Link) The software was developed by David Tang of SrtSoft.com. This is the same company that developed Article Post Robot, which is one of the tools I use everyday.

Forum Post Robot uses content from Yahoo Answers and posts the content in the form of posts and topics into your forum. It literally allows you to build a forum with topics, posts, amd members on automatic. You can setup FPR to search Yahoo Answers for the content you want by keyword and the process is pretty much automatic from there.
While I'm pretty impressed with the software and it's ease of use, I'm not expecting to create 1,000 sites with top Google rankings using it. The software uses content that is already posted on the web and most likely will not make it past the duplicate content filters at Google. However, I'm more interested in MSN traffic at this point and their search engine isn't quite as sophisticated when it comes to rooting out duplicate content.
Forum Post Robot will allow me to create some content sites on automatic that I can use to link up to my MSN SEO sites. I'm very anxious to see the results and will post an update as soon as I get some more data.
Tags: duplicate content, forum builder, forum post robot, forum software