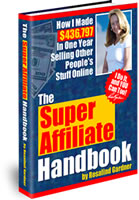 I just finished reading Rosalind Gardner's Super Affiliate Handbook. Rosalind is a top affiliate and is often referred to as the "Queen of Affiliate Marketing."
I don't want to bash Rosalind or her product by any means. Rosalind has more affiliate knowledge in her little finger than I'll ever know. But with that in mind, I guess I expected a little something more when I bought her book.
In my opinion, it was full of filler pages and very basic affiliate knowledge. In food terms, I thought I was buying a BLT, but the bacon wasn't there. If you've been at this for a while like I have, I'm sorry to say, I don't think you'll benefit much from her book.

However, for a new guy or gal starting out, this could be a great resource. It starts with the basics from explaining what an affiliate program is, how they work, and the different types of programs out there. Rosalind offers some advice on cloaking affiliate links and tips on setting up a WordPress blog.
My recommendation, if you are new to the game, Rosalind is everything she claims to be and you will benefit from her book. If you've been in the game for a while and already know the basics, don't waste your money.
Click Here To Purchase Rosalind's Super Affiliate Handbook!
Tags: affiliate program, become an affiliate, rosalind gardner