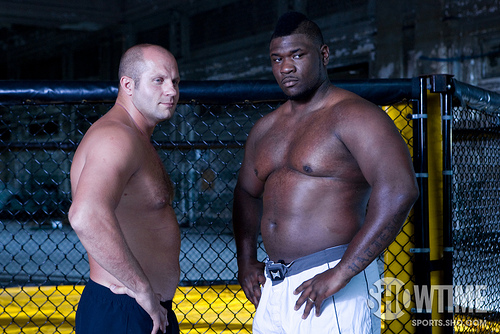 If you were looking for an exciting fight this weekend, Fedor Emelianenko vs. Brett Rogers wouldn't have left you disappointed. Fedor was cut within 1 minute of the first round and was bleeding pretty bad. From this point, I was standing just feet from a 50" tv anxious to see if Fedor was going to pull off another victory or if Rogers would finally put an end to his invincible rein. I think Rogers clearly won the first round finishing it up on top of Fedor and dealing him five vicious shots. By this point, I wasn't sure if Fedor was going to pull off another win or not.
You can never count him out. Once again Fedor proved that he can handle a much larger challenger by knocking Rogers out cold in 1:48 of the second round.
This was one of the best fights I've seen in a while. It was action packed and was a great match up. The UFC needs to get off their butts and set up Fedor Emelianenko vs. Brock Lesnar. That's what fans want to see!
Here is a great "blow by blow" of the fight from ESPN.
http://sports.espn.go.com/extra/mma/news/story?id=4633582
Post Fight Interview with Brett Rogers
Post Fight Interview With Fedor Emelianenko
Tags: Brett Rogers, fedor, fedor Emelianenko