I got a package in the mail on January 7th from Turnkey Internet. I'm a little embarrassed to admit, I didn't know who Turnkey Internet was. I was familiar with Turnkey Mail. I mentioned them in a post I wrote a few months ago. If you are sending email to a list of confirmed opt-in subscribers, you should check out the post below and sign up with Turnkey Mail. I promise you will not go wrong.
Well it turns out Turnkey Mail and Turnkey Internet are one in the same. I didn't realize in addition to mail servers, Turnkey Internet also offered Managed Web Hosting, Dedicated Servers, and Virtual Private Servers.
My package was a thank you card and a 2GB flash drive from Turnkey Internet's President Adam Wills. I've talked to Adam on the phone a few times and he has always been great. Anytime I've had a problem, he has always had a solution.
I've never owned a flash drive before. I'm not sure why? This thing has really came in handy. I've used it a few dozen times over the last few weeks.
Thanks Adam. I appreciate it.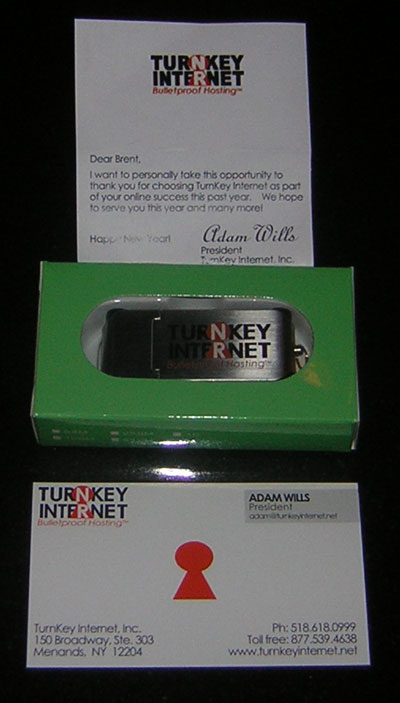 Tags: Dedicated Servers, Managed Web Hosting, turnkey internet, turnkey mail, Virtual Private Servers