Normally, I wouldn't accept a Holiday Gift. I'm all about Christmas Gifts!
I hate retailers located in the U.S. that refuse to acknowledge the word Christmas in their ads. They don't mind accepting the business of the 83% of Americans that claim to be Christian, but God forbid that they should mention the word Christmas for fear of offending the minority.
But I'll give Google a pass. Google isn't a retailer in the U.S. They are a global company. Their customer base consists of all types of people with different beliefs. I think a 'Holiday Gift' from Google is appropriate.
So what did I get?
In exchange for more than $100,000.00 I spent on advertising in four accounts, I got a 2GB USB 2.0 Drive with a leather carrying case. Probably a $50 - $75 gift at best.
I also got a gift card for $100 to use at DonorsChoose.org. Basically, I got to search for a public school classroom in need of funding for special projects like field trips, science projects, computer labs, etc. I found a classroom in Memphis, Tn trying to raise funds to build a Hydrogen Powered RC car. I really liked this project and found it pretty interesting. I've actually been considering building a full size electric powered car myself. So I decided to send the $100 to this class in Memphis.
I've read that others have received video cameras and Ipods from Google. I'm curious if Google considered the volume of all four of my accounts when picking which gift I got, or if they used the largest account?
Anyway, getting a gift from Google gives me warm and fuzzys. I've drank the Kool-Aid. Google is my friend!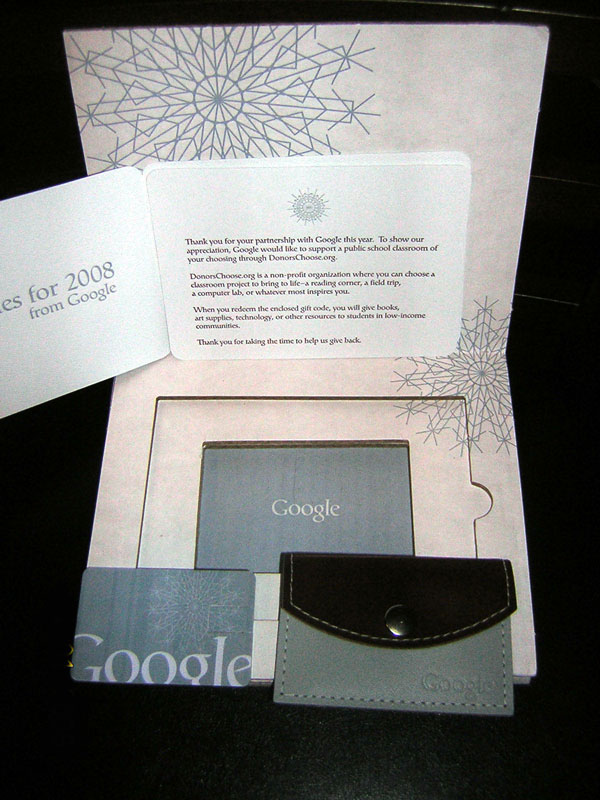 Click Here for Larger Image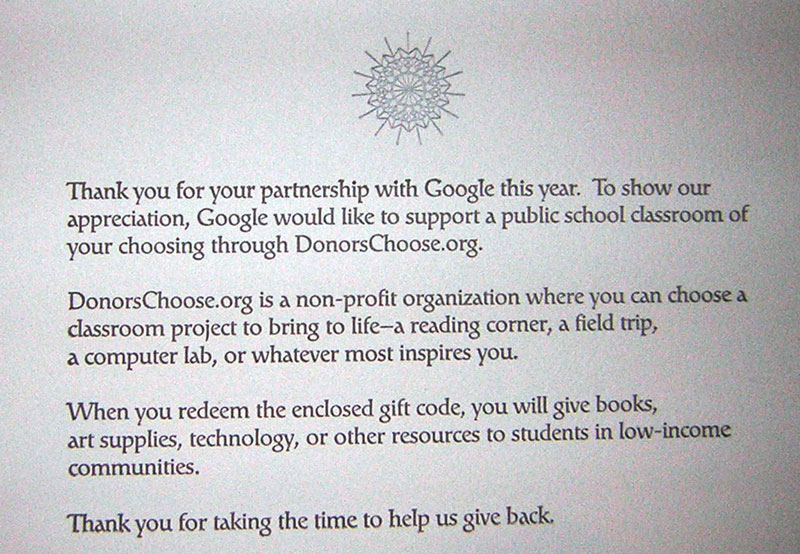 Click Here for Larger Image
Tags: donors choose, google gift, google holiday gift, usb 2.0 drive