Previous Post For This Project
I started writing about this project with the intent of posting everyday for 30 days and then checking on my results. My apologies. It hasn't worked out that way. A week ago, my daughter Jillian got out of school for the summer and we've been having fun. We've been to Dollywood, spent the weekend on our boat, and have plans to spend next week at Disney World in Orlando.
I haven't ditched work completely. I've been building back links using the methods mentioned in my previous posts. I'm happy to report I am already moving up the rankings for some of my long tail keywords. Unfortunately, none of my targeted keywords have shown up in the first 5 pages of Google just yet.
Article Marketing Tips
On my last post, I mentioned that I had 20 additional pages of content created. I've already added this new content to my site and it has already been indexed. One way to build new back links from relevant pages is to submit these articles to article directories and link back to my site using my targeted keywords as anchor text. However, most people agree that there are some issues regarding Google and duplicate content. For this reason, I'm not interested in submitting the same articles on my site to 50 different article directories.
Instead, I had the articles rewritten. I don't use one of the cheesy content rewriter softwares. These things take good content and spit out garbage. Instead, I have a writer that specializes in rewrites. Each article is well written and is different enough that I don't have to worry about Google's duplicate content penalty.
In the past, I'd use Article Post Robot to submit my articles across several hundred article directories. This was very effective a few years ago and helped me get great rankings for my CD and DVD Wholesale site. The problem is this method has been less effective over the past year.
Instead, I've turned to Josh Spaulding for help. Josh specializes in article marketing and wrote this post about his unique article submission strategy. I've adopted a similar strategy for this project. I submit half of my articles to article directories that have a PR6 or greater home page. Article Post Robot makes separating these directories easy and there are about 20 PR6 directories in total. The other half of my articles I submit to PR6 and PR5 directories. There are an additional 40 PR5 directories in Article Post Robot.
I'm rotating my author bio box to link back to the original article, my home page, and my main keyword articles using my targeted anchor text. I'll be submitting 2 - 3 of these articles a day, so I expect to have them all submitted in about a week.
If you are going to use articles to market your site, I'd highly recommend purchasing Article Post Robot (affiliate link). I've used this software for several years. It literally saves me hundreds of hours by automating many of the tasks required to submit articles across multiple article directories.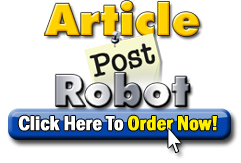 I'd also recommend picking up a copy of Article Marketing Domination (affiliate link) by Josh Spaulding. Josh is recognized as an expert on article marketing. You will not go wrong using his advice.

Tags: article marketing secrets, article marketing tips, articles marketing, back links, long tail keywords