You can read the first post in this series at this link.
Yahoo Directory Submission - Update #1
Only a few days have passed since my site has shown in the Yahoo Directory. At this point, analyzing the results is premature. But when I realized Google had already visited the category of the Yahoo Directory with my listing, I couldn't resist running the ranking checker to see if any changes had taken place.
Google - If you compare my most recent rankings with those in the previous post, you'll find my Google Rankings have actually fallen a total of 15 spots. What does this mean? Probably nothing. It isn't unusual to see my rankings in Google move up or down 10 - 15 spots with no site changes at all. If I run the ranking checker again in a few days, most likely I will regain these positions. This has been my experience in the past.
My guess is even though the Google Bot has visited my Yahoo Directory listing, it hasn't actually considered the listing in terms of keyword rankings. The next few weeks will tell how much, if any, effect a Yahoo Directory listing has on an established site in terms of Google.
Yahoo - Obviously Yahoo has considered my listing in terms of ranking my site. Not only did my keywords move up 17 positions, but I am ranking for 5 keywords that I previously didn't rank for. I added one keyword to results page one, two keywords to results page two, and two keywords to results page three.
MSN - MSN hasn't visited my Yahoo listing. Maybe they will get around to it in the next year or so.

I went ahead and ran the ranking checker for MSN. I lost a total of 37 spots! I was shocked until I looked a little closer. 70% of this loss was from one keyword. It wasn't a very important keyword in terms of conversions. My guess, next time I run the ranking checker it will return.
Remember, these results are very preliminary. My site has only been listed in the directory for a couple of days now. It is natural for a site's rankings to fluctuate day to day. You can't look at the first set of data and determine what type of effect a directory listing has. My change in rankings over the next 4 - 6 weeks will provide a better data set to make this judgment.
Another thing to consider is Jillian Entertainment is several years old and already ranks for many keywords. I mentioned this to SEO Expert Aaron Wall in a forum yesterday and he commented, "I think the Yahoo! Directory probably gives a brand new site more pop than an old established site." So if the data shows that the directory listing was good for Jillian Entertainment, chances are it will provide even better results for your site if it is fairly new and only ranks for a few keywords.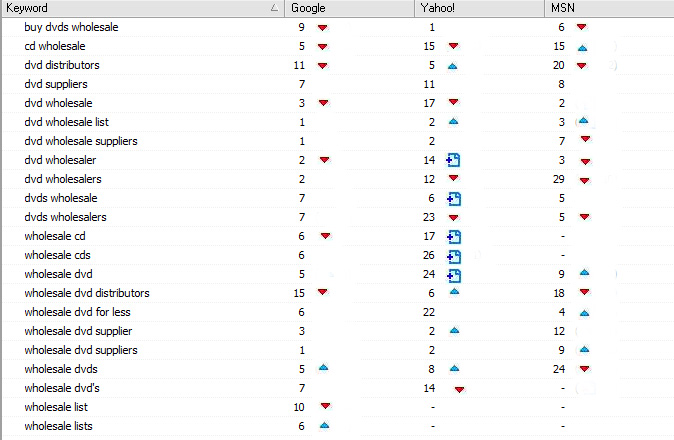 Tags: directory submission, keyword rankings, SEO, seo software, yahoo directory