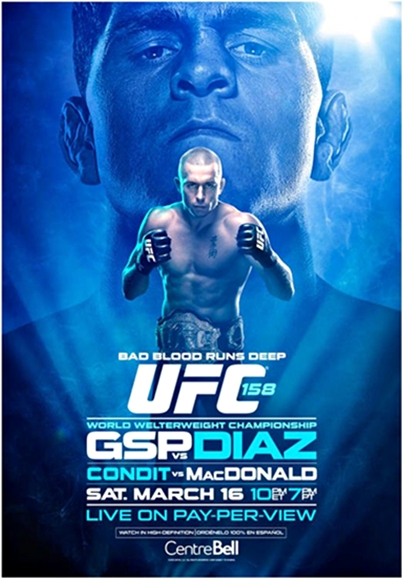 George St. Pierre vs Nick Diaz
Even though I'm a huge GSP fan, I really haven't enjoyed watching him fight much over the last few years. He's an excellent fighter and game planner that plays it safe. That's always been more than enough to keep him the champion, but it doesn't make for the most exciting fights.After he's more than year long absence from knee surgery, GSP showed up to finish his next fight with Carlos Condit. The finish didn't happen. The win did. But George was different fighter in that match. He took chances, nearly got caught doing so, and he went out to finish.
I'm hoping that is the fight we get tonight with Nick Diaz. If GSP wanted to hold him down and control him for 5 rounds, I don't question he could do it. We've seen him do it to much better than Nate Diaz. But if that is the type of fight we get tonight, I'm going to be very disappointed it.
Diaz is what we call "white trash" and has talked so much smack. George claims to have a real vendetta to get even. In a few hours, we'll know if that is just more "selling the fight talk" or if he really means it. Either way, I don't see how GSP doesn't come out on top for this fight.\n\nCarlos Condit vs Johnny Hendricks
This is going to be another interesting fight. I've never seen a guy put so many kick and punch combos together like Condit, but with the knock out power of Johnny Hendricks, will he ever get a chance to? Johnny is starting to build a reputation for ending things early in the first round.\n\nCondit has an excellent coach in Greg Jackson behind him. No doubt he's trained for this and is expecting it. Condit gave GSP a run for his money just a few months ago and I can only predict a war tonight. Who wins this is anyone's guess.
UPDATE 1.
GSP won a decision victory over Nate Diaz last night, but I don't think it is a victory that he could be proud of. GSP dominated all five rounds, but he could never break the spirit of Nick Diaz. There also wasn't a single time that I thought Diaz was in trouble and that the fight was close to being stopped.
For all the hype, this fight was another boring GSP victory with no chance of a stoppage. For all the smack talk and promises of how "GSP is going to give Nick Diaz the worst beating, blah blah blah" at the end we see both guys embrace and GSP tell us how Diaz is a good guy and a great fighter.
Good fighter? Yeah maybe. Good guy? Uhmmmm, no he's not? He's what we call white trash. \n\nCondit vs Hendricks -
Now Carlos Condit vs Johny Hendricks was a fight to see. It was definitely fight of the night. Johny came with that crazy left hand and Carlos ate it like a snack. There's no question Carlos has a chin like no other. He ate Johny's punches without a problem.
Johny was able to control most of the first three rounds by taking Carlos down over and over, but he couldn't keep him there and Carlos would break free and resume the fight standing. By the middle of the third round, Johny's energy level was failing and Carlos just kept coming.
Johny Hendrick's won a decision, but if this fight was a main event and went for 5 rounds, it was clear we would of had another winner.
GSP vs Diaz Press Conference
GSP Training for UFC 158
GSP Reacts to Nick Diaz Missing Open Workouts
http://www.youtube.com/watch?v=pTDv6hVnnw0
GSP Open Workouts