I was naive to believe that if my site showed up on the first page of the search results, I had as good of a chance of a visitor clicking on my site as the next guy. I couldn't have been more wrong. When my project SEO site moved from position 5 to position 1 in Google, I saw my traffic increase ten times overnight. Could moving up 5 spaces really make that much difference? Obviously!

I was able to find some information that was mined from some search data AOL released back in 2006. The data shows what percentage of clicks you can expect based on your search rank. The results are very telling.
If you rank #1 for your keyword or phrase, you can expect an average of 42.3% of visitors searching for that term to click your result. If you rank #2, the average CTR falls to 11.92%. By moving up one position, you can increase your traffic 3.5 times!
Here is a graph I put together to show the average CTR based on position. For those that have been telling us if you make the front page of results, it doesn't really matter, they are wrong. It does matter.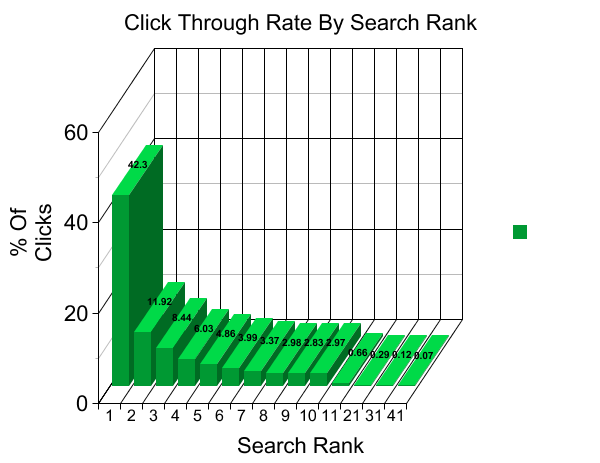 Tags: click through rate by search rank, click through rate by search result, search result, search results, SEO