In eight years of operating an internet business, I've learned that small changes can yield big results. A lot of the internet gurus preach test, test, test, but don't offer real world examples to show you just how powerful a simple test can be.
Below are the results of a few tests I ran on the ads of one of my Google Adwords campaigns. These tests are the result of thousands of impressions and clicks.
One of the components of an Adwords ad is the Display URL. The Display URL is the url shown when an ad is displayed, but it has nothing to do with where the user is directed to when an ad is clicked. By running ads that were identical in every way with the exception of the Display URL, I was able to increase my conversions in some cases by more than 400%.

I ran these two ads in an ad group containing keywords focused on ladies leather purses and handbags. The ads used the same landing page and are identical in every way except the Display URL.  The results of the test show the ads have a nearly identical Click Through Rate (CTR), but the ad that contains the word Purses in the Display URL converts 329% higher than the one that doesn't.

Here is another ad group where I got similar results. This ad group contained keywords that were focused on leather hats and caps. By adding the word Cap in one of the Display URLs, I suffered a slightly lower CTR, but I was able to double my conversion rate.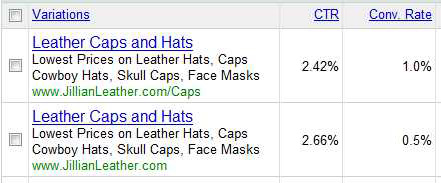 The above two tests show by adding a related keyword to your Display URL you can more than triple your conversions. However, if you relied solely on the above two tests to determine how you write your ads, you'd be leaving money on the table.
Here is a test I performed in an ad group focused on keywords related to leather vests. Notice how the ad that leaves out the keywords vest or leather vest from the Display URL has a conversion rate nearly 400% higher than the first ad.  This is why it is important to test.  Just because a technique works for one campaign, does not mean it will work in every situation.  This is why testing is so important.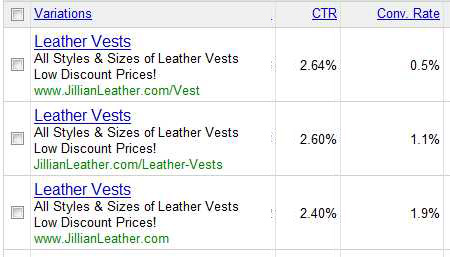 Here is another test that shows adding a related keyword to the Display URL cut the CTR in half and decreased conversions to ZERO!

The Display URL is just one portion of your ad that you should be testing. You should be testing everything from the headline, landing page, to every word in the ad. Here is another test I ran testing different ad components. Pay attention to how a small change can effect the conversion rate and CTR dramatically.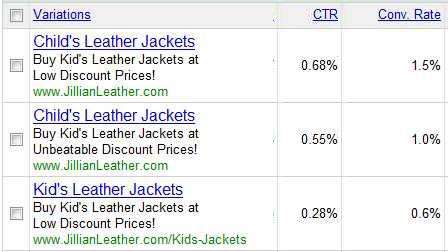 There are only a few products that I purchased that I would credit as significantly making an impact on my success as an internet entrepreneur. Perry Marshall's Google Adwords Course was one of these products.
This is where I learned everything I know about testing and Google Adwords. I can honestly say, I would not be where I am today had I not spent $50 and purchased his course. My business generated more than 1.3 million dollars in revenue last year. With that in mind, I think I can say it was $50 well spent!
Click Here To Sign up for Perry's Free Google Adwords E-mail Course Today!
Tags: ad testing, adwords, adwords guru, google adwords, perry marshall, PPC